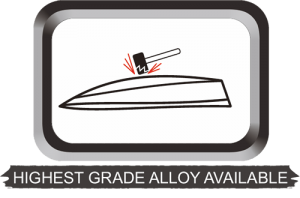 Highest Grade Aluminium Alloy Available
Take note as this is all important!!  Just because the manufacturer states 4 numbers in reference to the aluminium alloy it uses it means nothing, the magic number is 5083. If its not, it's a different grade altogether. It pays to know what you are buying.
A "saltwater" marine vessel should be made from 5083 H116 High Tensile. This is a Mill spec and is required on all military, rescue and survey vessels, it is considerably more expensive to buy. It has the highest corrosion resistance factor, is the most hard and non flexing, with an incredible sheer factor.  Contrary to popular belief it is not 100% aluminum, it is an Alloy made up from different elements specifically for the marine environment.
Alloy 5083 is known for exceptional performance in extreme environments.
Alloy 5083 is highly resistant to attack by both seawater and industrial chemical environments.
Alloy 5083 also retains exceptional strength after welding. It has the highest strength of the non-heat treatable alloys.
There is no standard in Australia that says that you have to use 5083 to build a plate boat and a lot don't use it because of price.  Tabs use it as it's the best and we wouldn't be a Tough Aussie Boat without it.